Rhiya Malin death: Nursery firms and care worker fined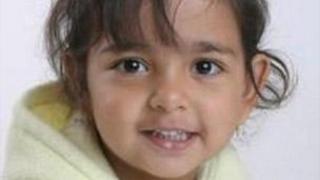 Two limited companies and a care worker found responsible for health and safety failings connected with the death of a two-year-old girl have been fined.
Rhiya Malin had a heart attack when her head got stuck in a playhouse at Eton Manor Nursery in Chigwell, Essex.
Casterbridge Care and Education and Casterbridge Nurseries (Eton Manor) admitted the breach and were fined £75,000 each at Chelmsford Crown Court.
Kayley Murphy, of Loughton, convicted after a trial, was fined £2,400.
Nursery manager Karen Jacobs, of Mill Lane, in High Ongar, was cleared by a crown court jury in February of an alleged safety failing.
Judge Karen Walden-Smith told the court Rhiya was dropped off at the nursery at about 08:30 GMT on 7 November 2007.
At about 11:00, she was found trapped by the neck between the wall and roof of a wooden playhouse.
It is believed she could have been standing on a tricycle in the playhouse and may have then slipped, the court was told.
She died about an hour later in hospital.
In a statement her parents expressed their grief at losing a much wanted and loved child.
Risk assessments missed
Judge Walden-Smith said: "She was clearly developing into a bright, engaging and happy child."
The playhouse, bought at a discount store for £100, had been modified to prevent the roof from blowing off but had not been subsequently risk assessed.
Ms Murphy was in the garden with three other supervisors while children were out playing at Eton Manor Nursery.
When they were called in Rhiya was missing and was found in the playhouse with her feet off the ground.
While paramedics were called Ms Murphy tried to resuscitate her.
Both limited companies pleaded guilty at an early stage to breaches of health and safety laws.
Judge Walden-Smith said: "I do not find that the companies were placing profit above safety but health and safety was not being taken seriously enough.
"Necessary support to staff was not given to enable health and safety to be given the prominence it required."
'Never accept loss'
The companies were fined £150,000 to be shared equally with £70,000 costs.
Ms Murphy was fined £2,400 to be paid off within 12 months.
Outside the court Jay and Shatl Malin said they were satisfied with the judge's decision but the fines were never going to reflect their loss.
Mrs Malin said: "I hope firms now realise there are consequences when they fail.
"You cannot ever accept the loss of a child especially in the circumstances we lost Rhiya.
"We now have another little girl who is 20 months and she is bringing us a lot of happiness."