Stansted Airport in car park cost hike 'error'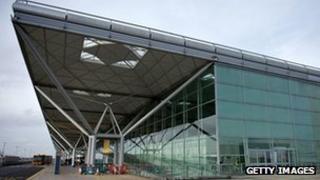 Airport managers admit an "error" was made when passengers found the cost of parking had suddenly risen by 66% overnight.
The cost of non-booked parking at Stansted Airport should be £16 a day in long stay and £18 in mid stay.
But on Tuesday, drivers found the prices had risen to £25 and £30 per day respectively.
The airport said the price increases, which are planned, should not have gone "live" and apologised to passengers.
One passenger described the increase as "outrageous" and accused the airport of "penalising" travellers who "have to travel at the last minute".
'Mistake'
A second said if the new prices were brought in, he would not use Stansted again.
A spokesman for the airport, which has introduced a free set down and pick up area, said: "The mistake was caused by a processing problem and we've immediately taken action to revert back to the previous pricing structure."
Passengers on Tuesday would not be charged the higher rate, he said.
The spokesman for the airport, which was taken over by the Manchester Airports Group three months ago, said the airport wanted to offer the cheapest parking prices to those pre-booking on its website.
The airport has not said when the new prices will come into force.