Mersea Island ancient bones belonged to 'active man'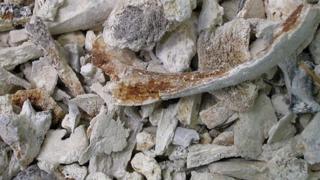 Bones found in an Essex burial mound belonged to an "active man" with the first known case in Britain of a rare joint disease, tests have shown.
The remains, discovered on Mersea Island in 1912, were in a glass urn, stored in a box inside a brick chamber.
Earlier this year, the bones were sent off for testing.
The results show he was aged between 35 and 45 years old and had been coated with frankincense from East Africa which means he was of "high status".
'Luxurious villa'
Judith Kirkby, of the Mersea Museum, said the degenerative disease he suffered with would have caused "stiffness and spinal pain".
"This is the first known record of this disease, known to the experts as DISH [diffuse idiopathic skeletal hyperostosis], on any burial site in Britain, and as such will be recorded in archaeological journals and documents," she said.
"The man had probably lived in a luxurious villa on Mersea Island, and the burial is believed to have taken place in the 2nd Century AD.
"He could have been born in Britain or another part of the Roman empire."
The bones have been returned to Colchester Castle for safe keeping.