Colchester group suggests 15mph town centre limit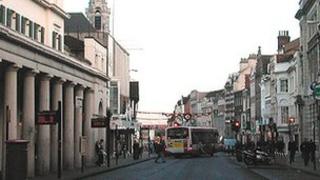 A 15mph speed limit in Colchester's high street has been suggested by an Essex business group.
Colchester Retail and Business Association (CORBA) said it could improve the town's traffic congestion.
In April, Essex County Council lifted its traffic order banning most vehicles from entering Colchester High Street between 11:00 and 18:00 BST.
CORBA's scheme is one of a number of ideas which will be considered by Colchester Borough Council in June.
Michelle Reynolds, a trader and member of CORBA, said its proposals were "only a catalyst for debate".
"We took [the 15mph scheme] from a retired highway engineer, who suggests that if the traffic was slowed it would flow better than the current stop-start through the town," she said.
It has also suggested the introduction of a new bus lane going from High Street into East Hill and restricting vehicle access to bus lanes during rush hours.
Colchester Borough Council said it would look at CORBA's proposals at the next meeting of its monitoring board for the High Street town traffic project in June.
Essex County Council's ban on cars and delivery vans entering the town centre between 11:00 and 18:00 BST was introduced in March but then cancelled in April, after widespread opposition.