Goodness Gang toy recalled by East of England Co-op after child hurt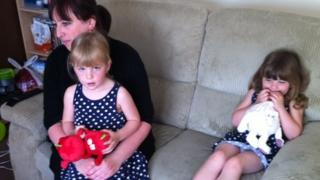 A product recall is under way after a four-year-old girl almost strangled herself with a cuddly toy.
Emma Charles, of Colchester, got the tie of the "Charlotte and Chloe Cherry" toy trapped around her neck.
Her mother Joanne Goldsmith said her daughter had turned a "blue-purple colour" when a sibling alerted her.
The East of England Co-operative Society said it took "immediate action" in ordering a recall as "customer concerns were extremely important".
Ms Goldsmith said Emma had ended up with the green stalk of the two-part toy wrapped three times around her neck.
"She was a few seconds from something really bad happening," she said.
'Very sorry'
"She was very, very distressed. She was trying to cry and trying to pull herself free.
"I undid them and she gasped for air and we hugged it out."
Despite her ordeal, Emma is still playing with the red cuddly toy, which has now been separated.
"She absolutely loves it," said Ms Goldsmith.
Emma's twin sister Grace said: "She got tangled up. I was scared when Emma was crying."
The toy is part of the Co-op's Goodness Gang range.
"We're very sorry for the distress caused," the spokesman said.
The East of England Co-operative Society has more than 200 trading outlets in more than 70 towns and villages including Norwich, Ipswich and Colchester.