Basildon roundabout job bid man gets cleaning role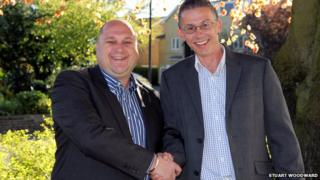 A man who spent hours on a roundabout advertising his desperate plight for work has accepted a job.
Father-of-two Matt Adkins, 45, from Wickford, Essex, said he was prepared to do anything.
As a last resort he stood on an A127 roundabout at Basildon with a placard saying he needed work.
He was telephoned by Ricky Dalton and offered a role with BizziB, a cleaning firm. Mr Adkins decided to take the job.
"He sounded like the kind of guy I would like to work for. He offered me the job and I bit his hand off," Mr Atkins said.
"I have done cleaning in the past."
Mr Dalton, the managing director of BizziB, said: "We are well staffed but it took real guts to do what Matt did. I think it was that which made me create a job for him.
"It showed real character."