Essex owl missing for two weeks dies in bird attack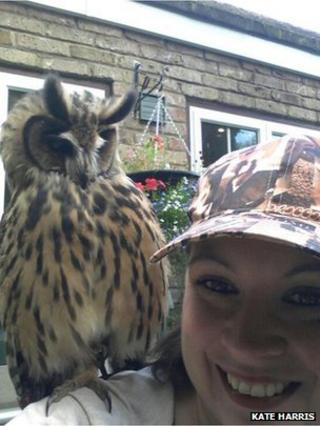 A "very tame" pet owl that went missing from an Essex garden two weeks ago was spotted moments before it died after being attacked by wild birds.
Kate Harris had asked people in the Harlow Town Park area to look out for her owl, initially fearing he might swoop on someone in his hunt for food.
He was seen in Harlow on Wednesday being attacked by other birds. Members of a falconry club tried to save him.
Miss Harris said: "Being a big softy he didn't fight back, and sadly died."
Wicket, a one-year-old Peruvian striped owl, flew out of the garden in mid-April when "something spooked him", Miss Harris said.
'Gentle bird'
She had feared he would not survive in the wild and believed he might approach people, thinking they had food for him.
He was eventually spotted at a retail park, about 0.25 miles (0.4km) away from home.
"He was being attacked by a mob of birds, so a member of the public reported it to the RSPCA and the local falconry club was alerted," Miss Harris said.
"He was such a gentle bird, and everything scared him. He used to hide behind my head when robins or finches came into the garden."
Wicket had lost about half his body weight and was seriously dehydrated.
'Silver lining'
"The falconry club did everything they could, but being so young, with what he's been through for the past two weeks, he couldn't hold on much longer and he died," Miss Harris said.
Paul Stancliffe, from the British Trust for Ornithology, said: "Small birds are always alarmed by owls and see them as a threat.
"It's common for them to mob owls to remove them from their territory.
"A healthy owl will just ignore them, or fly off, but unfortunately it sounds as if this one was not well enough to do that."
Miss Harris added: "At least Wicket went quietly in somebody's arms. He loved a good cuddle, so there is a silver lining."