Glen Daly Crete death: Mother tried to find witnesses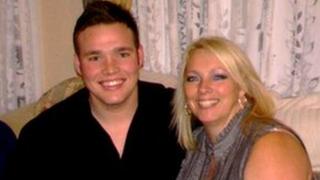 A mother "desperate for help" after the death of her son in Crete wrote to and telephoned 250 people to find a potential witness.
Dorothy Daly said she tried to contact anybody who might give her answers about how her 24-year-old son came to die in a crash with a lorry.
Glen Daly was knocked off his moped while on holiday with his lifelong friend, Tony Atkins, in June 2009.
Almost four years later, the Greek lorry driver responsible for his death has been convicted of negligent homicide and sentenced.
In an interview with the BBC, Mrs Daly said she and her husband, Les, had spent £15,000 on the case.
'Writing to anybody'
She claims there is not enough help for families and that it was through her own dogged persistence that she eventually found a lawyer to represent them.
"I was always hoping that people would get back to me, people who had seen what had happened," said Dorothy, of Chadwell St Mary, near Grays.
"We'd heard there were a couple from Ipswich who were potential witnesses.
"We went to the local council with the area, a first name, and got a list of 250 people.
"All we knew is that this chap liked motorbikes and was in a camper van.
"Some of the people on the list had phone numbers, and I sat there and rang people I didn't know, asking if they witnessed my son's death.
"I wrote to the others. But out of all of them I only got two replies back, and no-one came forward.
"This is what I've had to do.
"I was writing to anybody who could help, who might know something that might have been missed."
'Heart in mouth'
Dorothy was in her garden, chatting to a neighbour, when Tony's mother called to say Glen had been in an accident.
"I thought he'd broken his leg or hurt himself in the swimming pool," she said.
"She said that was all she knew, and Tony would ring me back in 20 minutes.
"I told Les, 'I can't wait that long, ring Tony'. My heart was in my mouth, I was pacing up and down."
Tony had gone to hospital with Glen. Later, they received the phone call they had been dreading.
"I was in the front room with our neighbour and all I remember hearing is 'he's gone'," said Dorothy.
"I ran out of the house and up and down my road and laid down on the pavement.
"I thought 'it can't be true, I've got to go out to my son, my son needs me'."
She said she can barely recall what happened next, but knows she put a "few bits in a bag" and got a flight to Crete that afternoon.
When they arrived, Tony was being "interrogated" by police without the help of interpreters, she said.
It transpired both men had been riding mopeds when a lorry pulled out into Glen's path.
'Promise to Glen'
"Tony was traumatised by what he saw," she said.
"They'd grown up together, went to school together.
"I promised Glen that day, there is no way this will be swept under the carpet."
In the blur of grief and confusion in the coming weeks, Mrs Daly said she made "phone call after phone call" to try to find someone who could help her.
She claims she discovered by chance that she was entitled to a police family liaison officer.
The Dalys also asked their MP, Conservative Jackie Doyle-Price, to get involved and had a meeting with Europe minister David Lidington.
"I really think I thought some miracle would happen and they would get Glen home, that he was still alive.
"I tried to find a lawyer that would deal with cases overseas, making phone calls, it went on and on, back and forth, back and forth.
"But this case wouldn't have gone to court if we hadn't pursued it," she said.
Last year, the lorry driver was found responsible for Glen's death in a civil case brought by the family and an inquest found Glen died as a result of a road traffic accident.
Dorothy said she was keen to write to the coroner about a possible change in verdict following the driver's recent criminal conviction.