Glen Daly Crete death: Lorry driver sentenced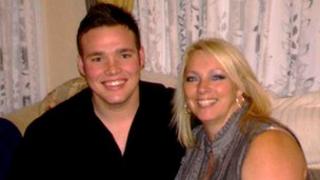 A lorry driver who killed an Essex man in a crash in Crete has been sentenced.
Moped rider Glen Daly, 24, of Chadwell St Mary, near Grays, died on the Greek island in June 2009.
Stefanis Konstantino, 46, was convicted of negligent homicide and fleeing the crash and was sentenced at court in Heraklion to 23 months in prison.
Under Greek law, Konstantino, and a man sentenced to 12 months for perjury, will not go to prison and were instead told to pay money to the court.
'Destroyed lives'
Thurrock Rugby Club player Mr Daly was on the third day of a holiday in Heraklion with his friend Tony Atkins when he died.
Mr Atkins told an inquest in Essex last year that they had been riding mopeds at about 30 to 40km/h when a lorry suddenly pulled out of a layby.
He swerved to avoid it, and looked round to see his friend lying in the road.
The inquest heard Konstantino stopped the lorry, got out, moved Mr Daly's moped and drove off.
Mr Daly's parents, Les and Dorothy, had long campaigned to get the case to court and were angry the criminal prosecution was delayed three times.
Speaking to the BBC, Mrs Daly said they were pleased they had got a guilty verdict but did not believe Konstantino got "what he really deserves".
She said: "I realise he's not going to get a jail sentence, even though he has been convicted, because the system is different to ours. But how is that fair?
"This hasn't destroyed his life but it has destroyed ours - life will never be the same for us again."
The Daly's lawyer in Crete, Jiorgis Kopidakis, said both Konstantino and Giorgos Stavoulakis, who ran a kiosk near the crash site, are to pay the court about £500 for each month of their sentence.