Fears for care home residents in Maldon amid closure plan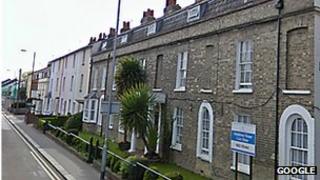 A resident at an Essex care home which is set to be closed says he and his friends feel like "refugees".
Middleton Manor in Maldon is being sold by its owner because it is no longer "fit for purpose". It will close on 5 April.
In January, residents at Middleton Manor were given three months to find alternative accommodation.
Larchwood Homes, which runs Middleton, said: "We are working to ensure the closure is handled sensitively."
A handful of residents are still at the home and concerns have been voiced about what happens to them when Middleton closes.
Resident Michael McCardle said he found news of the closure "absolutely shattering".
He said: "You come into a care home and you anticipate it is going to be your last port of call. We all feel a bit like refugees.
'Quality of care'
"I feel a lot of suppressed anger. It is no more than one expects these days of the world as it is."
Terry Abbott, who has a 95-year-old relative at Middleton, said the family had been unable so far to find her a new home.
"She has been here about five or six years and has Alzheimer's. We are extremely worried, about her health.
"We don't know what to do. Do we put her out in the street?"
A spokesman for Larchwood said it was working with the local authority to find new homes for those affected.
He said: "We can understand the concerns of residents and their families regarding the closure of Middleton Manor.
"However the age and layout of the home means it is no longer consistent with providing a high quality of care and environment for our residents."