Lord Hanningfield office at Essex County Council spending published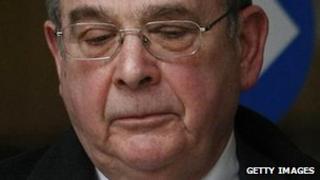 Staff who worked for the disgraced peer Lord Hanningfield spent about £70,000 on Essex County Council credit cards in his last two-and-half years there.
Lord Hanningfield was jailed in 2011 for falsely claiming £28,000 in parliamentary expenses.
The council office staff spending details released cover 2007 to 2010.
The authority said although some of the purchases would not now be deemed "wholly necessary" they were "legitimate" at the time.
Staff purchases included tens of thousands of pounds on travel to places such as Washington, Delhi, Shanghai, Helsinki, Hong Kong and the Caribbean.
'Legitimate at time'
Other items bought include £180 on suit hire for a trip to Royal Ascot, a stay at The Goring in Belgravia and a £185.50 meal at Loch Fyne where arrangements for the annual budget were finalised.
In her report to the council, Margaret Lee, the county council's executive director for finance, said: "It is important to stress that there are no reasons or grounds for taking any disciplinary action against those members of staff but the information is provided to complete the picture about expenditure incurred.
"Whilst the frequency and cost of the various business activities would probably not be considered wholly necessary today, it must be recognised that these were incurred as legitimate business purposes at the time."
Lord Hanningfield has been unavailable for comment on spending by those who worked for him.
The county council said it had changed "a lot" and that "expenditure which would have been considered appropriate at that time would not be now".