Harlow Tesco depot closure: MP Robert Halfon's jobs concerns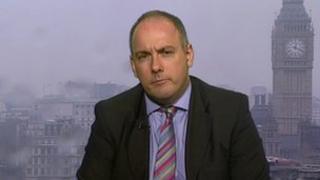 The government has been asked to step in to protect the pay and conditions of redeployed Tesco depot workers, an Essex MP says.
Tesco is restructuring its distribution system in the UK, with the closure of three centres - including Harlow - and the transfer of 2,000 jobs.
Conservative MP Robert Halfon says he fears Harlow depot workers would see changes to their pay and conditions.
The supermarket giant said that pay rates were still being negotiated.
It said all those people whose current jobs were being lost would be offered new employment within Tesco.
The 800 workers in Harlow are being offered alternative jobs at its stores or in its distribution centres in Dagenham and Enfield.
Lower wages
Mr Halfon said: "I find it very disturbing that hard-working people, if they are offered the same jobs elsewhere, are not going to be offered the same pay and conditions.
"They will be fundamentally worse off, as not only will they have their travel costs but their wages will be lower."
Mr Halfon said he had seen business minister Michael Fallon who would be contacting Tesco. He will be meeting representatives from Tesco next week.
In a statement, Tesco said that negotiations over contracts were just beginning and that pay rates would be "fair".
"Pay rates at each distribution site are determined by the local market," it said.
The company also announced it was looking for someone to take over the current lease of the Harlow building and was hopeful of interest.
Other Tesco distribution centres affected are Barlborough near Chesterfield, where 400 people work, and Weybridge in Surrey with 650 staff.
Magor in Monmouthshire, which employs 800 people, will be cutting 150 staff.
The union Usdaw has described the changes as "devastating" for staff and is consulting with Tesco to "explore all possible options to reduce any job losses."