Jools Holland opens The Backstage Centre in Purfleet
6 March 2013

From the section

Essex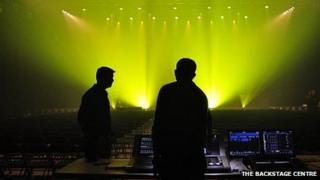 A £13m training and rehearsal facility for the performing arts has officially been opened in Essex.
An employment programme offering 6,500 new traineeships for 16 to 24-year-olds was also launched at the centre on the High House Production Park in Purfleet.
The £15m scheme, funded by the National Lottery, aims to help young people enter cultural industries.
The centre, designed to help creative development and technical training, was opened by musician Jools Holland.
Skills minister Matthew Hancock, who launched the employment programme, said: "For too long, young people without money or connections have struggled to get a foot in the door.
"This programme will help the industry meet its full economic and creative potential both by offering real employment opportunities to bright new recruits and driving a culture change to put the sector on a firmer footing for growth."
'Nurturing talent'
The Backstage Centre is funded by Thurrock Council, Arts Council England, the Skills Funding Agency, and the Homes and Communities Agency.
It is designed to provide a large-scale space to allow for rehearsals, creative development and technical training.
Alan Davey, chief executive of Arts Council England, said: "There are a lot of passionate and ambitious young people out there and [the programme] will give them the opportunity to develop the right skills from the very start of their career.
"It's also wonderful news for the sector as a whole which will ultimately benefit from the pool of talented and skilled creative professionals which this programme will help to nurture."