Chicken thief fined after posting party photo on Facebook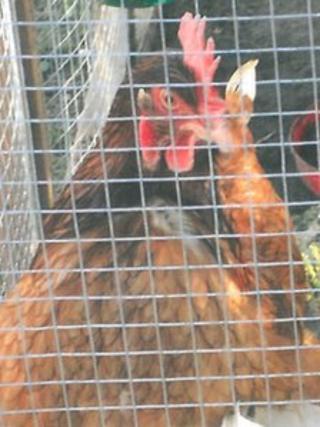 A 29-year-old man who stole a primary school's pet chicken was apprehended after taking the bird to a party and posting a picture of them on Facebook.
Magistrates in Chelmsford ordered Anthony Campen, from Chelmsford, to pay £130 compensation and £85 costs after he admitted taking the chicken.
Reacting to the ruling on Twitter, Campen expressed annoyance at the fine.
The school said the children were very upset and Olympia the chicken remained missing, presumed dead.
Campen posted a photo of himself with the chicken on Facebook on 28 January.
He was charged with causing unnecessary suffering to the chicken by "drunkenly" taking it to a house party for the "amusement of others".
'Great distress'
The charge was later withdrawn. Campen admitted stealing the chicken at Chelmsford Magistrates' Court on 20 February.
Olympia the chicken had been looked after by pupils at The Bishops' CofE and RC Primary School, Chelmsford, along with another since they were born last spring.
The school's headmaster, Greg Waters, said the children cleaned them out and collected their eggs before Olympia went missing at the end of January.
"We as adults might think of this as a joke, but for the children who have cared for her it was a real shock," he said.
The school launched an appeal for information, saying they believed the chicken had been released into the wild, but have yet to locate her.
"We still don't know where Olympia is but expect she has been taken by a fox," Mr Waters said.
A spokesperson for Essex Police said the loss of the bird had caused "great distress for the children".
"The chicken has never been found and it highly unlikely that it would have survived in the wild," the spokesperson said.
"Campen's actions were totally unacceptable and we hope he thinks long and hard about the upset and distress his loutish behaviour has caused."