Braintree: Wood thrown from bridge on to A120 road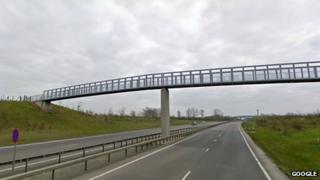 A driver was forced to swerve when a piece of wood was dropped from a footbridge over a road in Essex.
The woman was driving along the A120 near Braintree on Saturday afternoon when the wood was dropped from the bridge near the B1147 Rayne Road.
The driver, who was unhurt, said she thought a child or youth had dropped the item.
A police helicopter was brought in to search for the person responsible but nobody was found.
'Stupid and dangerous'
Ch Insp Rachel Nolan, of Essex Police, said: "This is serious, and it is fortunate that this incident did not result in any injuries.
"These children may think it is just a game but it is very stupid and dangerous.
"I would ask parents to please talk to your children and make sure that it is not them committing this offence."
In December 2011, Carol Manley, 57, of Harold Hill, suffered life-threatening injuries when a block smashed the windscreen of a car on the A12 near Galleywood.
Earlier the same evening, a mother and daughter had been left shaken when their car was struck by a large rock dropped from Fryerning Lane Bridge on the A12 at Ingatestone.
Police are still investigating the incident.