Dedham caravan family will be 'stronger' for prison experience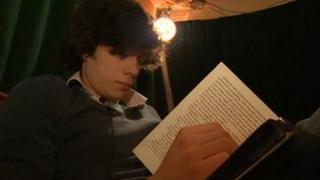 A teenager whose parents have both gone to prison over a dispute about land they are camping on says the family will be "stronger" as a result.
Asa and Gwen Pryke were given prison sentences last year after they refused to leave a site in Dedham, Essex.
Colchester Borough Council had ordered the couple and their sons to leave the land as it does not belong to them.
Nick Pryke, 17, said: "Everyone has their bad luck but we'll come out stronger from this."
The family are still living in the three caravans on the same site where they moved in 2011 after the Prykes' businesses collapsed.
They say the land was owned by Mrs Pryke's late father, but the council says it has proved the land belongs to an insolvency company as Mrs Pryke was bankrupt.
Mr Pryke was released from prison in January. His wife had been given a reprieve so she could look after the children but was taken into custody last week.
They were both found to have breached a court order to leave the site.
Nick Pryke said he did not blame his parents for their predicament and said they were doing all they could to keep the family, including his 13 and 15-year-old brothers, off the streets.
"Our parents have been through a difficult time," he said.
"I think in life you have to have these things, it either hits you really late or hits you early.
"Unfortunately, for us it hurt us really early."
Councillor Tim Young said: "We've proved it's not their land so we have to obey the rule of law - that's what the council is here to do."
Inside Out in the East has visited the Prykes' caravans for a report which will be broadcast at 19:30 GMT on Monday.