Wickford flooded field 'causing daily crashes' on A132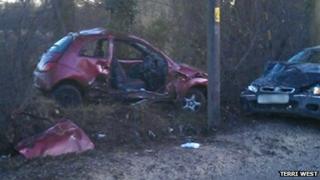 "Somebody will die" unless action is taken to stop an Essex road from flooding and freezing, villagers fear.
Residents have recorded 14 crashes in a fortnight on the road near Basildon, they say.
The problem is being caused by water running on to the A132 Runwell Road in Wickford, from a saturated field.
The field is owned by the Homes and Communities Agency (HCA), which is looking to solve the problem "as quickly as possible".
An HCA spokesman said they are "aware of the issue on the A132 Runwell road... following the last few weeks of snow and rain".
"The issue appears to be caused by both surface water runoff from a saturated field and drainage problems on the main road," he said.
"We will continue to work with the council to alleviate the problems and as the landowner, we will carry out any necessary improvements identified quickly which can deliver a solution on our land."
'Dangerous and frightening'
Terri West, who lives next to the road, said: "I'm always pulling people out of the bushes.
"It's so dangerous and frightening, somebody is going to die. It's going to be carnage."
Ms West was woken at 06:45 GMT one morning, by the sound of a crash involving three vehicles.
"One van and two cars completely lost control at the bottom of the hill," she said.
"The cars were complete right-offs. It by the grace of God the people hadn't been killed."
The HCA are now investigating the problem with Essex County Council who are "taking the situation extremely seriously".
A council spokesperson said it was "working with a landowner to look at the current drainage and how to alleviate the water saturation that is currently affecting a neighbouring field.
"Additional salt has also been placed over the flooded areas and slippery surface warning signs have been placed on-site."