Clarence the 'naughty' bull 'responds to jab training'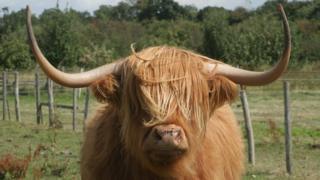 A bull described as "too naughty" to let vets near enough to test him for tuberculosis is responding well to "jab training", his owner has said.
Carol Jacobs, owner of Greenland Grove Animal Sanctuary in St Osyth, Essex, feared Clarence, a 10-year-old Highland, would have to be destroyed if the compulsory tests were not done.
She has now borrowed a metal cage to hold him securely for the vet.
"I'm showing him how to walk in and he is showing interest," Ms Jacobs said.
Government legislation requires all cattle, including those not housed on farms, to be tested for bovine TB.
Officers from Animal Health and Veterinary Laboratories Agency (AHVLA) carry out the tests on behalf of Defra.
'New tricks'
Clarence weighs about 600 to 700 kilos (94 to 110 stone) and Ms Jacobs said his horns "could pose a threat to humans".
He only likes being touched on his face and can be "a little naughty", Ms Jacobs said.
Vets decided Clarence was too dangerous to test without a metal cattle crush, which has since been loaned to the sanctuary by a local farmer.
"We already had an extension to find a crush, and thankfully we've been able to borrow the £3,000 piece of equipment," she said.
"We fed Clarence right alongside the crush. The llamas showed more interest, all lining up with their heads over the gate.
"While Clarence was eating I walked through it to show him it was ok, and told him he could have his turn soon," she added.
Staff now have until 11 February to train the bull to use the crush.
"The vet will have to come for a second visit on 14 February, only this time Clarence will know what's coming, and who knows what new tricks he will have up his sleeve," Ms Jacobs said.