Essex Police sued over Lee Balkwell cement mixer death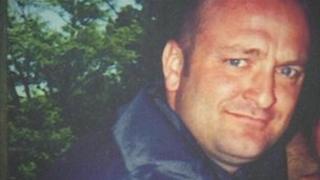 Essex Police is to be sued over its investigation into the death of a man found with multiple injuries in a cement mixer.
The body of Lee Balkwell, 33, was found in the mixer lorry near Upminster in 2002.
A High Court claim has been filed against Essex Police by the Balkwell family alleging the investigation of the death breached human rights law.
Essex Police would only confirm it had received the letter of claim.
Simon McKay, solicitor advocate for Les Balkwell, Lee's father, said the claim was based on Article 2 of the European Convention on Human Rights which concerns right to life.
It says state authorities are obligated to hold effective and independent investigations into deaths.
Unlawfully killed
The claim notice, seen by BBC News, alleges officers did not seize clothing at the scene, did not interview witnesses quickly enough and ignored some evidence.
An inquest into the death held in 2008 ruled Mr Balkwell was unlawfully killed as a result of gross negligence manslaughter.
The inquest heard Mr Balkwell had been working in a lorry which had broken down - and was using a drill to try to remove the concrete inside when he became trapped.
The Balkwell family first lodged complaints against the police over its investigation in 2003.
Last year, the Independent Police Complaints Commission published a report which upheld almost 20 complaints made against the force by Les Balkwell, saying the initial Essex Police investigation was "seriously flawed".
Last November, five people were arrested on suspicion of corporate manslaughter in connection with a new investigation into his death. They remain on police bail.