Basildon Craylands compulsory purchase threat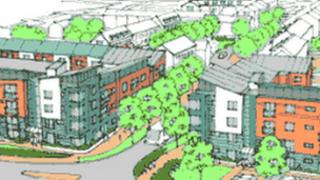 Compulsory purchase orders (CPOs) could be used to ensure regeneration of an estate built in Essex during the 1960s.
A £247m redevelopment is under way on Basildon's Craylands estate, where properties are owned by the council, a housing association or individuals.
So far, the Conservative-led council has not used CPO powers but its cabinet will discuss the issue on 7 February.
The Labour opposition said it was natural for property owners to hold out for the best price.
The council said it had agreed last year to take over CPO responsibilities from the Homes and Communities Agency (HCA) for phase one of the project.
'Last resort'
Council leader Tony Ball said: "It is important that the council has the ability to use these powers but I make clear that they will only be used if absolutely necessary to acquire land and property.
"The council and its partners will always negotiate fairly with affected land and home owners in accordance with legal requirements.
"We will only use CPO powers as a last resort to enable development when it is in the interests of the borough and its residents.
"The regeneration of Fryerns and Craylands is a very high priority."
Bill Archibald, Labour councillor for the Fryerns ward, said some of the homes on the estate were bought under the right-to-buy scheme and it was natural that people would hold out to get the best price possible.
Development of the former Fryerns School site as part of phase one has resulted in 201 new completed homes and 117 existing properties are currently being prepared for demolition with 206 more new homes to be completed by March 2015.
The redevelopment will take place in four phases, over approximately 12 years.