Christine Shinwell inquest told of Broomfield Hospital resuscitation notes
28 January 2013

From the section

Essex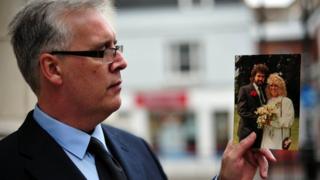 A doctor decided over a telephone that a patient he had not seen should not be revived despite her notes saying she should be, an inquest heard.
Christine Shinwell was taken to Broomfield Hospital in Chelmsford with a broken knee on 23 November, 2009.
But the 63-year-old's condition deteriorated and she died of heart failure on 4 December.
Hospital doctors told the inquest in Chelmsford attempts to resuscitate her would have been "futile".
Independent pathologist Dr Martin Goddard said Mrs Shinwell had "a long and substantial medical history" including kidney disease, diabetes, agoraphobia and heart problems.
The inquest was told how Mrs Shinwell's nursing records stated she had been "reviewed" by a doctor and was "for resuscitation".
But giving evidence, consultant Dr Anser Qureshi told how he was telephoned at about 03:00 GMT on 4 December by a hospital registrar about Mrs Shinwell.
He advised against carrying out cardio-pulmonary resuscitation (CPR) should Mrs Shinwell's heart stop. The clinical circumstances had changed since her last assessment, he said.
Asked by Essex and Thurrock Coroner Caroline Beasley-Murray whether he thought there "should be a discussion" about resuscitation with the family, Dr Qureshi said: "Generally we tend to discuss it with the family and patient.
"But at this point the patient was critically ill. The patient was dying. It (CPR) was going to be futile. The side effects of the CPR will be worse than the benefits of doing the CPR.
"It was an extremely complex case. The patient was going to die soon. I thought it was in the best interests of the patient."
Asked by the family's barrister Christopher Hough whether he "could make that decision" without seeing Mrs Shinwell in person, Dr Qureshi said he had discussed the circumstances in detail with the registrar.
The inquest heard how Mrs Shinwell also had osteoporosis which meant her ribs might have broken if doctors had applied chest compression.
The hearing continues.