Vintage London buses in timetabled Harlow service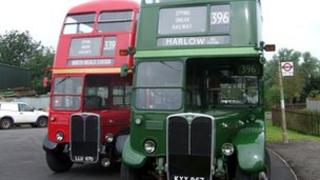 One of the busiest bus stations in the country is to have a new route added - a vintage London service.
The 396 from Harlow bus station will go to and from North Weald on Mondays, Fridays and Saturdays.
The new service is part of a trial scheme being run by Harlow Council and the Epping Ongar Railway.
Council spokesman for regeneration Tony Durcan said: "It's certainly been a very long time since a London bus has travelled through Harlow."
The service, which will link up with the Epping Ongar railway at North Weald, will pick up and drop off along the route at all regular bus stops.
Bus pass holders will also be able to use the 396 service, just as they would a regular route.
Generate money
The council hopes the red and green buses will help generate money for the authority, which has had to make savings to meet a £1.8m budget shortfall this year.
The buses being used are AEC Regent RT buses, which were made famous in the film Summer Holiday starring Sir Cliff Richard.
The number of the route - 396 - was chosen because it used to be the service run out of Harlow using RT buses in the 1960s.
Mr Durcan said: "Many of our older residents, including some who moved from London in 1950s will remember travelling on the old London buses and riding on a steam train and now they have the opportunity to share that experience with their families."
The Epping Ongar Railway has recently resumed steam and heritage diesel services along what was once the end of the London Underground Central Line.
Tickets for both the bus route and the train service can be bought at the Harlow bus station, which has 400,000 departures each year.