PC Ian Dibell died from single bullet wound, inquest hears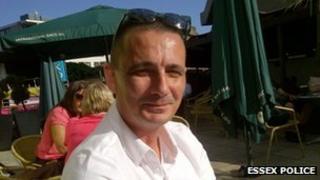 An off-duty police officer shot dead in Essex died from a single bullet wound to the chest, an inquest has heard.
PC Ian Dibell, 41, was killed in Clacton-on-Sea on Monday after he intervened in a dispute near his home.
Peter Reeve, 64, the suspected gunman, was found dead the following morning with a handgun in a churchyard at Writtle, near Chelmsford.
His inquest in Chelmsford, which also opened earlier, was told Mr Reeve was seen to shoot himself in the head.
The inquest, held in the Marconi Room of the town's Civic Centre, was told how PC Dibell was shot as he approached a car.
Post-mortem tests carried out by Dr Benjamin Swift found PC Dibell died from a bullet to the chest and Mr Reeve from a gunshot to the head.
Essex and Thurrock Coroner Caroline Beasley-Murray said: "As the tragic events of this week have unfolded in Essex, many people's lives have been affected.
"Much has been required of Essex Police to meet the challenges of a complex investigation.
'Exceptional officer'
"The families can now return to their funeral arrangements and hopefully be left in peace to grieve for their loved ones."
Mrs Beasley-Murray asked coroner's officer Philip Sitch to pass on her "sympathies" to the families of both men.
Both inquests were adjourned until a later date.
PC Dibell was shot after intervening in a dispute between 48-year-old Trevor Marshall, his girlfriend and Mr Reeve in Redbridge Road.
Mr Marshall suffered leg injuries and his girlfriend was unhurt.
Essex Police is continuing with its murder investigation into the case.
PC Dibell was described as "an extraordinary man and an exceptional police officer" by Essex Police Authority.
In a statement, the authority said: "He is the finest example of the deep sense of loyalty and bravery in our officers, even when not on duty, to serve and protect the public.
"PC Dibell, you have become a beacon for us all. We shall not forget you."