Clacton PC Ian Dibell shooting: Cemetery in Writtle searched
10 July 2012

From the section

Essex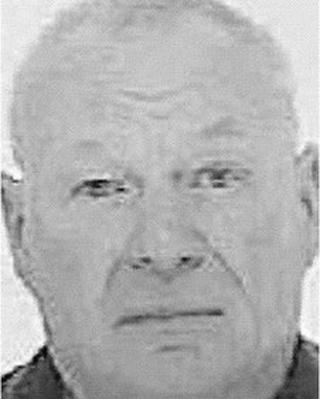 Police hunting a man suspected of killing an off-duty policeman in Essex are searching a cemetery.
PC Ian Dibell, 41, was shot dead in Clacton-on-Sea on Monday afternoon.
Essex police have been hunting Peter Reeve, 64, from the Clacton area, through the night after the shooting.
The force, which has called a news conference for 10:30 BST, said there was no longer a danger to the public. There are reports a body has been found in Writtle.
The grounds of All Saints Church cemetery close to the village green are being searched.
Marcus Griffin, who was in Writtle earlier, told BBC News: "When I was coming in this morning there were lots of police all around, lots of traffic. A police officer told us to hold on.
"Then, as we went past where the cemetery area is, there were police cars all around blocking off both entrances.
"One lady I heard asked 'should we leave' and he said 'as far as I know, no.' That was all they really said to us.
'Deadly situation'
"I've only spoken to a couple of people at the petrol station around the corner, and they were all quite scared. I've locked the doors where I work and I'm alone at the moment."
Mr Reeve's car was found earlier in Clacton.
Police have said there has been a "significant development".
It is thought PC Dibell was killed when he tried to intervene in a dispute. A second man was wounded.
Debbie Essery, the sister of PC David Rathband who was shot and blinded by gunman Raoul Moat, said: "RIP PC Dibell. My heartfelt thoughts are now with his family at this awful time.
"No words can comfort you, your loss is truly heartfelt."
Police said although Mr Reeve comes from the Clacton area, he also has known links to Chelmsford.
The manhunt was extended beyond the Clacton area to include the rest of Essex and other counties.
Speaking at a news conference on Monday night, Essex Police Chief Constable Jim Barker-McCardle said PC Dibell was "an experienced and professional neighbourhood police officer" who "deliberately intervened in what he knew was an extremely deadly situation".
Mr Barker-McCardle said members of PC Dibell's family were also in the police force.
The chief constable said: "Policing is a family and we are all hurting.
"This dreadful event reminds us all that policing is a mission that ultimately some die for.
"We will not rest until we have Peter Reeve in custody - the investigation will continue round the clock."
Residents of Redbridge Road in the seaside town described hearing shooting and screaming at about 15:40 BST.
A 45-year-old woman, who lives yards from the scene, said she heard "a lot of commotion" and saw a man running up the road.
Hazel Field, 75, who lives in Redbridge Road, said: "I was in the garden at the time and heard a gunshot, followed by a woman's scream.
"Then I heard another gunshot, followed by about five more."
Eric Long, 80, said he saw the gunman from his window: "I saw him standing with some kind of revolver.
"He was chasing somebody, firing as he went."
'Walking towards danger'
When police arrived at the scene, they found PC Dibell dead and another man with serious leg injuries lying in the street. He is receiving hospital treatment for gunshot wounds to the leg.
A white tent now stands where the police officer was shot.
Paying tribute to him, Mark Smith, chairman of the Essex Police Federation, said: "Constable Ian Dibell was a dedicated professional officer who, even though off duty, has paid the ultimate sacrifice for his bravery and selfless actions in trying to protect his local community."
Sir Hugh Orde, president of the Association of Chief Police Officers, said: "The death of our colleague in Essex is deeply sad news for the police service.
"PC Ian Dibell died while knowingly walking towards danger, as police officers are called upon to do on behalf of the public they serve.
"The courage he showed in stepping up to do his duty, without thought for his own safety, sums up what it means to be a police officer."