Essex ex-Royal Engineer Mark Colman breaks underwater record
22 June 2012

From the section

Essex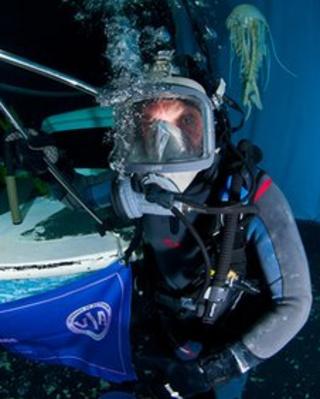 A former soldier from Essex has broken a world record by staying underwater for more than 100 hours as part of a campaign to raise £500,000 for charity.
Ex-Royal Engineer Mark Colman, 44, of Corringham, was submerged at the bottom of a 20ft (6m) diving tank in Basildon.
He is raising money for Veterans in Action (VIA), a charity which he said changed his life.
After breaking the existing record of 100 hours by 22 minutes he was taken to hospital for checks.
Although a former professional diver, it was his first time under water in more than a decade and his morale was high after the 100 hours were up, organisers said.
But his health was becoming a concern as he was complaining about problems with his hands and feet because they had been in the water for so long.
After slowly making his way to the surface, having been submerged for 100 hours and 22 minutes, he went to hospital where no serious condition was found.
In the past he had suffered depression and anxiety after a friend died in a diving accident. He lost his sister and developed post-traumatic stress following service with the Army in the first Gulf War.
He turned to VIA which offers support to former members of the armed forces who find it difficult to adjust to civilian life.
It was to raise money for this group that he undertook the ordeal of the 100-plus hour dive.
Organisers said he was a hero to have completed the dive as it would have probably broken a man with less commitment.