Coryton refinery in Essex gets three-month reprieve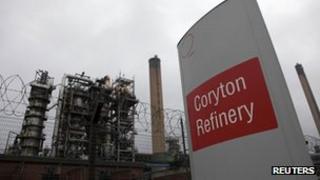 Operations at an oil refinery that went bust in Essex will continue for the next three months.
The Coryton plant, which supplies about 20% of London and south-east England's fuel, came under threat when its owner Petroplus went into administration.
A group of financiers will pay to refine their own oil at the plant for three months, giving administrators PwC more time to find a buyer.
Coryton employs about 1,000 people and would normally own the oil it refines.
This temporary reprieve deal will see the plant's services effectively hired out by the consortium.
The deal involves Morgan Stanley bank and private equity firms KKR Asset Management and AtlasInvest.
PwC was recently reported to have received more than 40 expressions of interest for the plant from companies around the world and is still in discussions with potential buyers.