Essex A12 concrete attacks: Photo of victim's injuries shown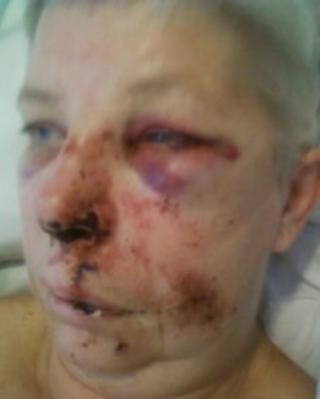 Photographs of a woman's injuries caused when a concrete bollard was dropped on to a car on the A12 in Essex have been released by police.
Carol Manley was with her husband in a Nissan Ntec on 1 December when the bollard smashed through the windscreen.
Mr Manley said he looked over to see his wife covered in blood.
Earlier, on the same road, a lump of granite hit a Vauxhall Astra. Both incidents are being treated as attempted murder.
Mrs Manley, a front-seat passenger, was hurt when the bollard was dropped from the West Hanningfield Bridge, near Galleywood, at about 22:00 GMT.
'Car destroyed"
Eight miles away in Ingatestone, mother and daughter Stella and Lisa Horne were left shaken when their car was struck by a large rock dropped from Fryerning Lane Bridge on to the A12 forty minutes earlier.
A reward of up to £3,000 has been offered to find those responsible.
Mrs Manley's husband, Steve, said: "There was a bump on the roof of the car, as far as I could tell.
"I thought I had hit something in the road.
"When I turned around and looked at my wife to ask her what it was, I noticed that the front of the car was destroyed.
"My wife was covered in blood.
"There was a concrete block on her chest and leg."
'Blood pouring'
Mr Manley said: "My first reaction was to try and get the concrete block off of my wife.
"The concerns that were running through my mind were that my wife couldn't breathe, she couldn't see, there was blood pouring from her face.
"I was concerned because she had an operation on a spinal injury about two or three years ago.
"Only recently (she had) come out of hospital from having an operation on her stomach and the concrete block was on the stomach so you can understand I was in no state to know anything or do anything."
Mr Manley said he had been driving at about 45mph and enjoying a "quiet conversation" with his wife when the block hit their vehicle.
He escaped with minor cuts and bruises.
His wife is now recovering at Broomfield Hospital in Chelmsford.