War veterans mental health scheme set up in Colchester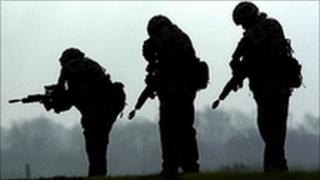 A scheme aimed at improving mental health care for soldiers once they have left the army has been set up in Essex.
The North Essex Veterans Mental Health Network will see Colchester Garrison, the NHS and charity Combat Stress working closer together in future.
It is hoped the partnership will improve links between all three and result in more suitable treatment for former army personnel.
The network has received £130,000 of funding from the Department of Health.
The scheme was instigated by consultant psychiatrist Lt Col (Retd) Mike Srinivasan, from Colchester Garrison's Department of Community Mental Health.
He believed the partnership would make a "huge difference" to veterans.
He said: "We in the military need to get our colleagues in the NHS to understand the military language.
"A lot of our soldiers when they leave the services feel they're not very well understood by our colleagues in the NHS.
'Battle hardened'
"For example, if you go and see our colleagues in the NHS and say your friend was blown up by an IED and somebody says 'what's an IED' you've lost that person's [trust]."
The group held its first conference at Colchester United's stadium on Tuesday.
It discussed the current state of mental health provision for ex-service personnel and the possiblity for staff exchanges between the military and the North Essex Partnership NHS Foundation Trust.
Earlier this month the Ministry of Defence launched its "Don't Bottle It Up" campaign aimed at raising awareness of the mental health impact of war.
Lt Col Srinivasan said: "Service personnel are a very proud group of people, battle hardened and generally resilient.
"[As a result] they don't particularly like seeking help unless they're really pushed to do so."