Southend Pier to reopen after being damaged by barge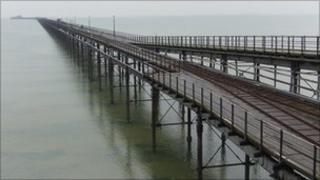 An Essex pier that was damaged when a barge was blown into it by high winds is to reopen this Saturday.
Southend Pier has been closed for nearly three weeks after it was struck by the 80ft (24m) vessel, damaging a pylon and part of the decking.
It will partially open at 08:15 BST with the pier trains resuming from the shore to the pier head.
However, the damaged section of walkway will remain closed for several more weeks whilst repairs take place.
Conservative councillor for culture and tourism, Derek Jarvis, explained the train fares would be reduced whilst the area of walkway remained closed.
The reopening coincides with the arrival of the sea-going paddle steamer, the Waverley, to the end of the pier and a "Busking on the Pier" event.
The barge hit the pier on 6 September. It had been moored along side and was pushed into it by heavy swell and extreme weather.
It was being used to store steel for contractors replacing a fire main at the far end of the 1.3-mile (2.16km) pier.
It was the 16th time the pier, one of the longest pleasure piers in the world, had been struck by a ship.