Essex's Camp Constant 'supports Dale Farm travellers'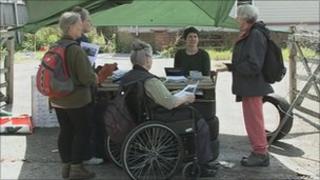 A protest camp has been set up in support of the UK's largest travellers' site, ahead of an eviction deadline.
Supporters from as far as Sweden, Holland and Italy hope Camp Constant will resist bailiffs at Dale Farm, near Basildon.
The travellers own the Cray's Hill site, but half of its pitches are illegal and do not have permission.
Basildon Borough Council gave notice to 86 families to leave by midnight on Wednesday.
On Thursday, travellers' representatives delivered a 1,600-signature petition opposing the eviction to 10 Downing Street.
'Last resort'
It is claimed up to 400 people could be left homeless.
The council said forced clearance was a last resort and it was open to discuss future accommodation needs with the families.
Council officials are expected to take action to clear the site next month if the travellers do not leave.
Travellers' groups have said they are unwilling to meet the deadline and hundreds of people have pledged to join Camp Constant's 'gesture of defiance'.
Jake Fulton, a spokesman for the Dale Farm Solidarity campaign, said the group of people supporting the cause was growing all the time.
"There are lots of travellers coming to lend their support, people who have seen evictions before and know it is a hugely traumatic experience, but outsiders have come to support the resistance too.
"There are people with a human rights background here, about 20 or 30 activists from Sweden, Holland, Belgium, Italy.
"There are more than 100 people who have come to help and we are expecting about 30 more to arrive this afternoon."
A spokesman for the Department of Communities and Local Government said: "The British courts have found that the developments at Dale Farm are in breach of planning law and Basildon District Council is within its rights to evict travellers from the site.
"It has taken 10 years of failed negotiations and legal process to reach this point, and the unprecedented level of unauthorised development on greenbelt land has severely damaged community relations."
Earlier this week Amnesty International called for a halt to the eviction, which followed similar calls from Raquel Rolnik, the UN's special rapporteur on housing, and Rita Izak, a UN independent expert on minority issues.
'Peaceful solution'
The cost of the clearance is expected to reach £9.5m.
Traveller families settled on the former scrapyard more than a decade ago, and about 110 children live there.
Those who own the land have been denied permission to build residential properties.
Some have been offered - but turned down - the chance to live in "bricks and mortar" housing.
In a statement on its website, council leader Tony Ball said: "The council has spent the last 10 years attempting to find a peaceful solution to the illegal site at Dale Farm.
"A forced clearance has always been a reluctant last resort for us, but the travellers have left us with little option after exhausting the legal process."