Colchester NHS trust ends private cleaning contract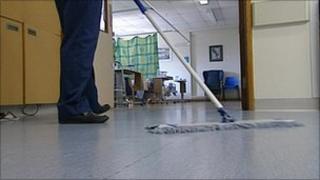 A contract with a private company to clean a hospital in Essex will not be renewed and the services will be performed by NHS staff.
Colchester Hospital University NHS Foundation Trust said it decided to end Carillion's contract from October 2011.
Cleaning, catering, and portering are among services being transferred.
About 450 staff at Colchester General Hospital and Essex County Hospital will be able to transfer to the NHS trust on existing hours and terms of service.
The chief executive of the trust Dr Gordon Coutts said: "On balance, the board felt that gaining greater control over our support services and being able to align these better with our clinical services was of great importance for the future development of our trust.
Pest control
"We also felt that we could provide these services more cost-effectively than by using a contractor."
Mr Coutts acknowledged the role the private firm Carillion had played in helping the trust achieve the highest scores for cleanliness, environment and food in independent patient assessments.
Some specialist support services - such as Legionella testing and lift maintenance as well as grounds and gardens, pest control, and laundry and linen will continue to be subcontracted to specialist companies managed directly by the trust.
In November 2009 Richard Bourne, chairman of the Colchester Hospital University NHS Foundation Trust, was removed by the independent regulator, Monitor, for the Trust's failure to meet standards in various areas.