Essex Bishops take part in annual Bradwell Pilgrimage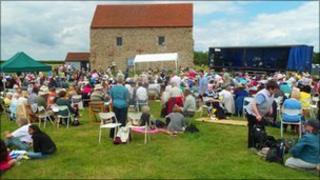 Hundreds of people have taken part in an annual pilgrimage to one of the most important Christian locations in Essex.
The Bradwell Pilgrimage saw them walk two miles (3.2km) from St Thomas' Church in Bradwell-on-Sea to the remote Chapel of St Peter's on the Wall.
The event marks the site where St Cedd arrived in the 7th Century to bring Christianity to the Essex Saxons.
Among those taking part were the Anglican Bishop of Chelmsford and the Catholic Bishop of Brentwood.
'Special place'
Organised by the Churches Together in Essex and East London group, the pilgrimage also included services, music, meditations and workshops.
It was the first time the Bishop of Chelmsford, the Right Reverend Stephen Cottrell, had taken part in the event.
He said: "The chapel has always been a special place for me having been brought up in Essex and somewhere I've known for almost as long as I can remember.
"But I've never been on this annual pilgrimage and so it's good to be doing it with brothers and sisters from other churches."
It was also a special occasion for the Bishop of Brentwood, the Right Reverend Thomas McMahon, who is stepping down from his post later this year, after 31 years.
He said: "Pilgrimage is a search for roots. Here we come to the very roots of our Christian faith, through St Cedd."
The pilgrimage takes place on the first weekend of July every year.