Chelsea Flower Show golds for two Essex exhibitors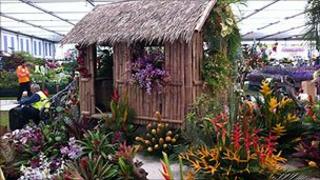 Two Essex exhibitors have won gold medals at the RHS Chelsea Flower Show.
"Grenada at Chelsea" from Woodham Walter took its ninth show gold in the Great Pavilion Awards section with its "Castaway - A Grenada Idyll" display.
The garden's purpose is to promote the Caribbean island through the world-famous horticultural show.
Nazeing-based Rhodes & Rockliffe were also successful in the same category with their begonia display in their 17th year at the event.
Suzanne Gaywood, of the Grenada at Chelsea display, said she was "absolutely thrilled" with her latest gold.
She said: "I was never over-confident. Although I love the design and was happy with the way it all went, there's always a little doubt in my mind.
"But I came in this morning and saw it was gold and am absolutely elated."
The design, which consists of a bamboo hut surrounded by tropical plants and flowers, marked the 14th time the team have been at Chelsea.
Mrs Gaywood, who was awarded an MBE in the New Year's Honours list for her services to Grenadian tourism, described the garden as an "Anglo-Grenadian project."
She said: "We had the bamboo flown over from Grenada and we built the structure in the garden in Woodham Walter, then transported it up to the show ground.
"The flowers arrived from Grenada, with 89 boxes of flowers, foliage and spices, along with four team members based there. So it's very much a joint effort."