Colchester students march over fee hike plans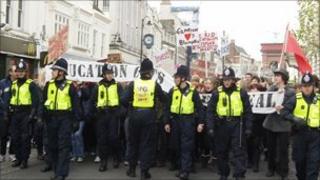 Hundreds of A-level students in Colchester, Essex, are protesting against government proposals to raise university tuition fees.
The students have marched from North Hill to the Town Hall and are planning to visit the town's Liberal Democrat MP Bob Russell to voice their concerns.
The government plans to allow tuition fees to rise to £9,000 a year.
The demonstrations are part of a number taking place in towns and cities against the plans.
Students are staging occupations at universities including Royal Holloway, Plymouth, Birmingham, London South Bank and UWE Bristol.
Marches, walkouts and protest events are also taking place at universities and colleges, including Manchester, Liverpool, Oxford, Cambridge, Leeds, Newcastle and Bournemouth.
A number of school pupils have also walked out of lessons in Cambridge.
Students are protesting against plans to increase tuition fees in England to £9,000 per year and to withdraw public funding for university teaching budgets for many subjects.