Mudeford Spit beach hut thefts rewards offered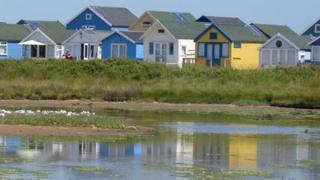 About 70 beach huts have been burgled in the past four months at a site in Dorset that boasts some of the most expensive huts in the UK.
Dorset Police said stolen items from huts at Mudeford Spit, near Christchurch, included food items, binoculars and a fishing rod.
Two rewards are now being offered for the arrest and conviction of an offender.
Last year one hut at the site was on the market for £200,000.
'Wanton damage'
The thefts have taken place since November last year, with the majority being committed over the last few weeks, according to police.
Mudeford Sandbank Beach Hut Association is offering a £500 reward, with Crimestoppers offering an undisclosed sum.
Association chairman Steve Barratt, said: "The wanton damage to these family huts has caused a great deal of distress to the owners.
"Given that the huts contain very little of value makes this a senseless act of vandalism that must be stopped."
He said the break-ins came after many huts managed to escape substantial damage during recent storms.