Dorchester £5m traffic scheme changes investigated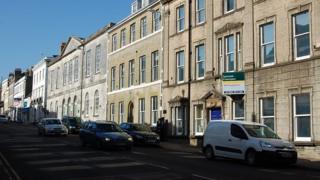 Changes suggested by residents to plans for a £5m traffic scheme in Dorchester are to be investigated.
Dorset County Council's cabinet agreed the recommendation at a meeting earlier and said revised plans by its officers were due to be submitted in September.
The county council's current proposals include High West Street and part of Prince's Street being made one way.
Suggested alternatives include a bus contra-flow at the top of High West Street.
'Significant changes'
The current proposals, which were first mooted in 2003, are designed to reduce the amount of traffic in the town and, as a result, reduce congestion and improve air quality.
They include a new traffic signal system at the junction of Princes Street and Albert Road and restricted turns added at Great Western Junction.
Hilary Cox, the authority's head of environment, said there had been a "high level of disquiet" over the proposals and as a result "significant changes" needed to be made.
Concerns raised during a public consultation last year included traffic being transferred onto residential streets.
Once revisions to the scheme have been made the council will decide whether it is still viable.
Councillors agreed the authority needed to "get on and make a decision".