Poole beach huts waiting list to reopen after seven years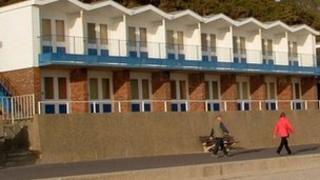 Applications to rent beach huts in Poole are to reopen after seven years.
Borough of Poole Council said the waiting list for huts had "reduced significantly" to about 200 applicants.
There are more than 1,000 huts along Poole's coastline, most of which are leased annually, and around 80 more are due to be built.
Councillor Judy Butt said the reopening of the list was "long overdue". The council said applicants would still face a minimum wait of two years.
A new online waiting list system will let residents apply for huts on beaches at Sandbanks, Shore Road, Flaghead, Canford Cliffs, Branksome Chine, Branksome Dene and Hamworthy.
Ms Butt said the beaches were "one of our biggest assets and while we cannot offer people a beach hut immediately, I am delighted to be able to reopen the waiting list".
She added that "after seven years, this is really is a great step forward".
A plan to reduce the waiting lists by limiting leases to five and ten years was dropped in 2012 after objections from existing tenants.