Duke of Wellington's Kingston Lacy tree felling 'cavalier'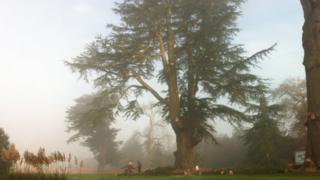 Felling a tree planted by the Duke of Wellington is "shocking" and "cavalier", a tree surgeon has said.
The National Trust condemned the cedar, planted at Kingston Lacy House in Dorset in 1827, after it was diagnosed with severe rot.
Head gardener Andrew Hunt said it was the "right thing to do".
Chartered forester, biologist and surveyor Jeremy Barrell said it was a "knee jerk reaction that has... cut down a living link to the past".
Mr Barrell ,who has been awarded by The Arboricultural Association for services to the industry, said that because of "unfortunate" deaths due to falling branches and trees at Felbrigg Hall and Dunham Massey Park, the National Trust had a tendency to "overreact".
"It's a cavalier approach... even if there's a hint of a problem, they basically cut the trees down without another thought, and that is so damaging to our national heritage."
He said the rot in the cedar at Kingston Lacy House "isn't enough in principle to warrant a complete removal".
"There are intermediate stages you can go through in terms of reducing the crown size without removing the tree.
"They've cut down a living link to the past when actually there could have been another option."
'Decayed and dying'
Mr Hunt said the advice to remove the tree had been "checked carefully by the National Trust's team of garden and tree experts, who also concluded there was nothing more could be done to extend the life of the tree, which was clearly dying".
"We were first made aware of the rot in the tree five years ago during the routine survey, since when we have monitored it carefully and done what we could to keep it as part of the Kingston Lacy landscape as long as possible.
"The team of tree surgeons working on the tree have found more decay in the higher branches than we were aware of and they have confirmed that felling was the only option.
"We feel the only cavalier action would have been to allow such a decayed and dying tree to be left in place in a garden visited and enjoyed by so many people."
Work to fell the tree is continuing and once completed, the ground will be cleared and replacements propagated from the seeds of the cedar will be planted.
Arthur Wellesley, who was the first Duke of Wellington, planted the tree at the estate then owned by William John Bankes.
They became friends during the campaigns of the Peninsular War.
The duke, with the help of Prussian forces under the command of Gebhard von Blucher, defeated the French emperor Napoleon Bonaparte at the Battle of Waterloo in June 1815.