Bournemouth squat fire 'accident waiting to happen'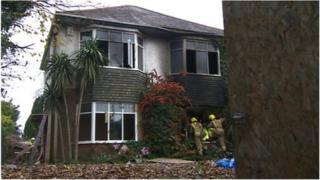 A fire that injured three people may have been caused accidentally by squatters trying to keep warm, Dorset fire service has said.
Two men and a woman had to be rescued by firefighters on Sunday, during the blaze in Wellington Road, Bournemouth.
They were taken to hospital suffering from burns and the effects of breathing in smoke.
One neighbour described it as "an accident waiting to happen".
Christopher Button said squatters had been living in the building, which was scheduled for demolition, for about five years.
He and other neighbours have made numerous complaints and police beat officers checked on the house most days, he said.
'Lives saved'
"It doesn't really surprise me at all, and really, something needs to have been done about this quite a long time ago," Mr Button said.
The fire broke out on the ground floor and quickly spread to the rest of the house.
Several people managed to escape from the building, but three remained trapped.
Richard Coleman, station officer, said: "There were a couple of rescues, one was from a door on the side of the building where we were able to lead someone down the stairs.
"Another person had to be carried out. We went in with a ladder through the back of the building and carried someone out through the window.
"They were really unwell and are being treated in hospital.
"It's unlikely anyone would have survived for even minutes longer, had we not been able to rescue them. So I think our crews saved some lives."