'Eco-friendly' Studland moorings plan to protect seabed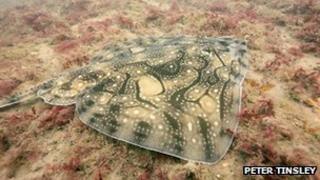 Plans to trial "eco-friendly" moorings off the Dorset coast to protect underwater habitats are under way.
Dorset Wildlife Trust's (DWT) proposals for Studland Bay follow a six-week summer scheme which urged boat users to anchor more carefully.
The chains used in the bay's current moorings can "scour" the seabed's seagrass meadows which support rare species, including undulate rays.
The additional moorings would use "less heavy-weight" methods, the trust said.
Seagrass, which is in decline worldwide, is home to a variety of species in Studland, including both British seahorse species and all six species of British pipefish, including the rare Nilsson's pipefish.
There are currently permissions for about 50 moorings in the bay and the trail moorings, which are likely to use "bungee-type rope", would operate as an alternative to these, the trust said.
'Rich and diverse'
Julie Hatcher, DWT's marine awareness officer, said: "Concern has been raised that the high level of boating activity in the summer is having an impact on the wildlife that lives there - particularly the fragmentation of the seagrass meadows.
"If the habitat declines this has an impact on the rich and diverse wildlife it supports."
The proposals, recommended in the trust's Studland Seagrass Project report, will now go before the Studland Bay Conservation and Recreational Activity Working Group before an application is made to the Marine Management Organisation (MMO).
DWT is a member of the working group, along with other interested parties including local yacht clubs, residents and other conservation groups.
The plans are expected to be discussed by the MMO before the end of the year.