Baby lobsters released on to Weymouth Bay reef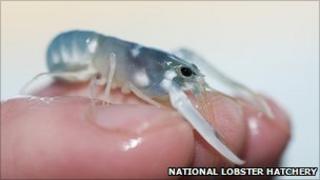 The first 1,000 baby lobsters have been released on to an artificial reef off the coast of Dorset in a bid to replenish dwindling stocks.
Community group Wreck to Reef built the reef, in Weymouth Bay, using 2,000 tonnes of local stone last year.
A larger reef is being constructed to stop the creatures escaping before they have matured into adults.
That project is being funded by people paying to have their loved one's ashes sealed in individual stones.
The crustaceans have been donated for free by the National Lobster Hatchery, based at Padstow, Cornwall, with a further 1,000 to be released every year up to 2016.
'Redresses the balance'
They will be tagged and monitored by scientists from the National Oceanographic Centre in Southampton, while fishermen have volunteered to carry scanners on their boats to asses survival rates.
The baby crustaceans will take five to six years to reach maturity when they will be encouraged to leave the reef and breed.
Neville Copperthwaite, from Wreck to Reef, said: "If the land was treated in the same way as the sea and we never replenished it with new seed, we would soon run out of crops.
"The sea is no different and yet nothing is ever put back into it.
"Lobster restocking is practical conservation, it redresses the balance."
One thousand adult lobsters were released on to the reef back in January and 6,000 are expected to be introduced there annually from 2014.