Ally Mullany death: Head teacher's car on wrong side of road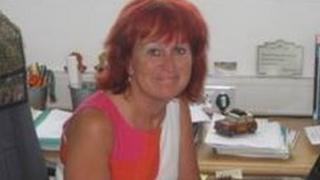 A Dorset head teacher died when her car went onto the wrong side of the road and crashed head-on into a fire engine on an emergency call.
Ally Mullany, 50, head of St Joseph's Catholic Combined School in Poole, died on the B3075 near Wareham on 14 April.
An inquest heard that the mother-of-four failed to negotiate a bend and the accident was caused by driver error on her part.
Coroner Sheriff Payne recorded a verdict of accidental death.
Bournemouth Coroner's Court heard that she was taking two of her children to a horse riding competition at Bovington.
She had followed a diversion onto the B3075, because the A35 had been closed after a crash at Morden Park Corner.
Lights flashing
Travelling in the opposite direction to Mrs Mullany's Mini was a fire engine, sent from Wareham to attend to the earlier crash.
The inquest heard its sirens were off but its lights were flashing.
Fire engine driver Andy Cobb told the court he came over the brow of a hill and saw a red car coming towards him, drifting into his lane.
As it showed no signs of moving back, he decided to go into the other lane to avoid it, but the Mini turned sharply and they collided in the middle of the road.
Both vehicles were being driven within the speed limit for the road, the hearing was told and the coroner described it as "a tragic accident".
The crew tried to help Mrs Mullany, but she died at the scene of severe head injuries.
Her children were injured but have recovered from their physical injuries, the court heard.