Weymouth bat and hammer robbers in Coral raid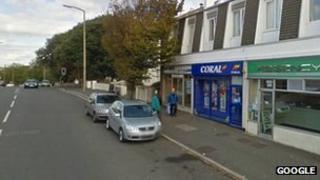 Robbers armed with a bat and hammer stole £815 in cash in a raid on a bookmakers in Dorset.
Two men burst into the branch of Coral in Dorchester Road, Weymouth, and threatened staff on Saturday night.
The money was handed over and the raiders fled the scene at about 20:00 BST, a police spokesman said.
No-one was hurt in the robbery. Detectives from Weymouth CID are appealing to witnesses to come forward with information.