Bournemouth man in court after Luckham Road attack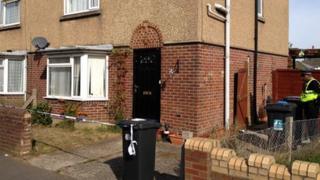 A man charged with murder after a man died following an assault in Bournemouth has appeared in court.
Rodger Tett, from Bournemouth, was attacked in Luckham Road on Saturday evening. He was taken to hospital but died from serious head injuries.
The BBC understands the 42-year-old had been attending a small gathering at a house in the street.
Stephen Gibbs, 33, also from Bournemouth, was remanded in custody at Bournemouth Magistrates Court.
He is due to appear at Winchester Crown Court on Friday.
Mr Tett was taken to Southampton General Hospital where he died on Monday.
A house in Luckham Road has been sealed off by police.
Officers are asking for anyone with information, or who saw anything at about 18:15 BST on Saturday, to come forward.