Portland coastguard helicopter base petition attracts 17k signatures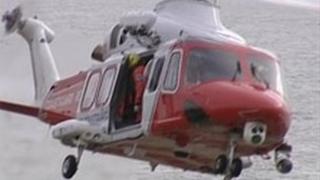 An online petition opposing the closure of Dorset's coastguard helicopter base has attracted 17,000 signatures.
The search and rescue base at Portland is set to close in 2017.
The e-petition is due to close later but has not attracted the 100,000 signatures necessary to trigger a debate in Parliament.
The Department for Transport (DfT) said modern helicopters operating from fewer bases could provide a more reliable service that met key requirements.
'Increase mortality'
The Wessex Trauma Unit, made up of senior doctors in the region, has condemned the government's plans.
Clinical director Katharine Hartington described the helicopter coverage as "a vital part of our trauma network".
She expressed doubt a helicopter based at Lee-on-Solent in Hampshire could provide effective cover, especially during the busy summer months.
"Our fear is it could increase mortality. There has been extensive research showing survival rates go up the quicker people get into hospital."
The e-petition was set up by South Dorset MP Richard Drax.
The Maritime and Coastguard agency insists the nationwide search and rescue capability will improve under the new plans to operate from 10 bases using newer, state-of-the art faster helicopters.
"The enhanced capability of the new helicopter fleet will provide greater reliability than the present service.
"Lee on Solent (which is approximately 20 minutes flying time to Portland) is to remain open and other bases in Cornwall, South Wales and Kent will all be able to reach the Dorset area," a spokesperson for the agency said.