Sailor rescued off Dorset attempting Ireland trip in inflatable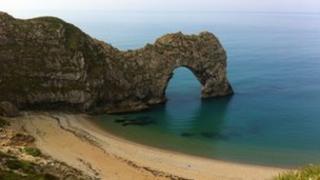 A man who attempted to sail to Ireland from Dorset in an inflatable dinghy has been rescued by coastguards.
The man, believed to be American and in his 40s, was picked up south of Durdle Door having drifted eastwards from Osmington Mills on Wednesday afternoon.
The 6ft (1.8m) inflatable boat had paddles as a mast and rudder and a plastic sheet for a sail.
He was rescued by a diving team and taken to Lulworth Cove where he was treated for sunburn.
'Very bizarre'
Nigel Holder is skipper of the boat X-Dream which rescued the man.
Mr Holder, 51, from Weymouth, said: "We found him about four miles south of Lulworth Cove. He was quite happy to say he was fine and didn't have any problems, but he didn't look very good.
"He had been in the sun all day and his legs looked as though they had had a kettle of boiling water thrown over them.
"The next move was for us to do the dive, but we kept an eye on him.
"He was rowing at the time that we left him and he managed to get within about three quarters of a mile from where we were diving.
"We picked his boat up and put it on to the deck of my boat and took him to Lulworth Cove where he was met by paramedics.
"It was very bizarre. I've never known anybody to do that before."
John Braisher, of Portland Coastguard, said the man was "extremely lucky" to be found when he was.
"With no suitable communications equipment, limited life saving equipment and inadequate food and drink resources for his passage to Ireland, the outcome could have been very different.
"If you're planning to head out to sea, the key is to be well prepared. Inflatable dinghies, such as this, are unsuitable and not recommended for coastal passages of this nature," he said.
The Irish coast is more than 300 miles (480km) from Dorset.