Suspicious fire destroys Poole heathland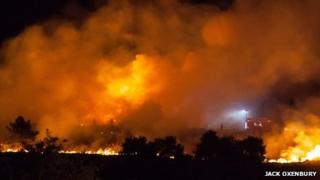 A large fire that police say may have been started deliberately has damaged seven hectares of heathland in Dorset.
Fire crews were called on Tuesday night and are still at the scene at Canford Road, near to Knighton Heath Golf Club, "damping down hot spots".
A spokeswoman said the area on fire was the size of 10 football pitches and about 60 firefighters spent more than five hours tackling the blaze.
On Wednesday 35 firefighters tackled another heath fire in the county.
An area of about 100 sq m by 50 sq m of Ham Common, near Hamworthy, was affected, with Dorset Police evacuating and closing the nearby beach, car parks and roads.
Station manager Julian Lockwood described the Canford Road incident as "a very severe fire".
"It's devastating, it will take years for this kind of area to recover."
He said crews would remain there for most of the day.
The cause is unknown but police are treating it as suspicious.
At the height of the blaze, the police helicopter was used to direct firefighters and residents were advised to keep windows shut.
Natural England describe heathland as very sensitive and one of the most ancient types of British landscape.
A fire service spokeswoman said: "There is extensive damage to hectares of gorse and heath, which is home to Dartford warbler nesting sites and various different species of reptile, including lizards and snakes."