Poole council to work with Dorset councils partnership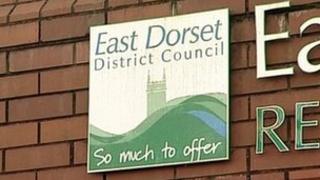 A Dorset council is looking to share services with three other local authorities in a bid to cut costs.
Christchurch, East Dorset and North Dorset councils work together as the Stour Valley Partnership to collect council tax and deal with benefits.
Councillors are to consider whether the Borough of Poole unitary authority could also share its revenues and benefits services with the partnership.
The Poole council said it needed to save about £28m by April 2017.
Council leader Elaine Atkinson said: "It's much more efficient for us to do this together.
"The key determinant is about saving money but it isn't the only thing - it's about providing a better and more efficient service."
Share website
Councillor Charmaine Parkinson, Poole People member for Hamworthy East, highlighted the severity of the authority's financial situation.
She said: "I can see the benefits of exploring it [the partnership] and sadly we have to.
"If we can achieve savings in administration then that has to be a positive outcome."
The proposal is the latest move by councils in Dorset to cut costs by sharing resources.
Last month, Purbeck District Council announced it also wanted to join the Christchurch and East Dorset Partnership, launched in 2011 by Christchurch Borough Council and East Dorset District Council.
A number of the county's district and borough councils also share a website, refuse collections and other services.
If approved, Poole, which is run by a minority Conservative administration, would join the partnership in phases, starting with a shared management structure from 2014.
The proposal will be considered on 22 July.