Dorset County Scouts facility built in Wareham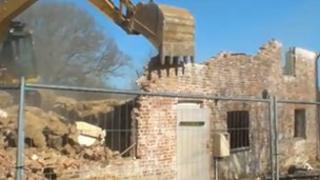 A £500,000 Scouting facility, less than 10 miles from where the movement first started has opened in Dorset.
A three-tier tunnelling complex and a 45-bed accommodation block have been built at the 95-acre campsite on Puddletown Road, near Wareham.
Stu Malcolm, from Dorset County Scouts, said it was an "exciting" time for the group.
Scouting was founded by Robert Baden-Powell at Brownsea Island in Poole in 1907.
The British Army lieutenant general was inspired to write the book Scouting for Boys after holding a camp there with 20 boys.
'Great history'
Mrs Anthony Pitt-Rivers, HM Lord-Lieutenant of Dorset laid the foundation stone.
She said: "Dorset has a great history and connection with Scouting which, of course, goes back to the very beginning of the movement.
"Dorset Scouts already have a great deal to be proud of, but are moving forward yet again."
The indoor accommodation and support facilities will be used by visiting Scout and other youth groups, as well as a base for training schemes for both Scouts and their leaders.
Several old farm buildings had to be demolished to make way for the new complex.
Head of Dorset Scouting Mike Parkes said: "The redevelopment of the buildings at Buddens Scout Centre, will enable more young people to benefit from year round residential experiences and activities."
Dorset County Scouts works with more than 6,000 young people aged between six and 18 and has 1,500 adult volunteers.