Bournemouth teacher admits child porn charges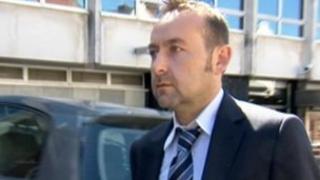 A former primary school teacher has pleaded guilty to making indecent images of children and possessing extreme pornographic images.
Simon Clannachan admitted 14 counts of making indecent images of children and seven of possessing pornographic images portraying a sexual act with an animal.
He was suspended and has since resigned from his teaching post at Kingsleigh Primary School in Bournemouth.
Headteacher Richard Gower said it was a "dark chapter" in the school's history.
'Anger and betrayal'
In a statement, he said: "We are pleased this matter has been concluded through the justice system and that Mr Clannachan has pleaded guilty to these heinous crimes.
"This has been a very difficult time for all those involved, not just our staff, many of whom have felt a deep sense of anger and betrayal that one of our profession could engage in such activities, but for everyone in our school community."
He thanked parents for their "patience and understanding in coming to terms with the situation" and said "support remains in place for those in need".
He also said had Clannachan, 40, not resigned from his post the school would have brought dismissal proceedings against him.
"As we learn to move on from this brief but dark chapter in our history I can speak for everyone at the school when I say we continue to concentrate our efforts on enabling all our children to reach their full potential in a safe environment," added Mr Gower, who had previously written to parents regarding the matter.
Clannachan, of Richmond Park Avenue, Bournemouth, is due to be sentenced at Bournemouth Crown Court on 26 July.